EPA Confers Honors for Climate and Ozone Protection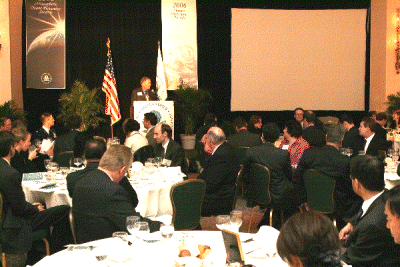 (Washington, D.C. - May 17, 2006) Food growers and producers, a pet food company, and a personal care products company are among the 23 individuals, organizations and companies from around the world that the U.S. Environmental Protection Agency is recognizing for their efforts to protect the Earth's climate and stratospheric ozone layer.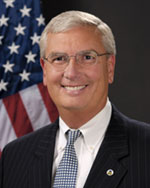 Stephen L. Johnson EPA Administrator

"By conserving resources and committing to renewable power, these leading companies are proving that doing what is good for the environment can also be good for business," said EPA Administrator Stephen L. Johnson. "Building on President Bush's unparalleled commitment to reducing global greenhouse gas emissions, EPA is working with our partners at home and abroad to reduce their climate footprints in cost-effective ways."

Last year, the winners of the climate protection award and the stratospheric protection award collectively purchased more than 1.5 million megawatt hours of green power to avoid burning fossil fuels. They also generated wind and solar power onsite, increased energy efficiency, recycled refrigerants, and slashed the use of ozone-depleting substances and greenhouse gases.

EPA has honored 495 individuals and organizations from 40 countries since the annual stratospheric ozone protection awards began in 1990. Subsequently, EPA focused special attention on the reduction of greenhouse gases and protection of the Earth's climate when it began the climate protection awards in 1998 and has recognized 122 individuals and organizations from 16 countries since then.

2006 Climate Protection Award Winners:

Arizona Public Service Co., Phoenix, Ariz.
Baxter International Inc., Deerfield, Ill.
DENSO Corp., Kariya, Japan
IBM Corp., Armonk, N.Y.
Johnson & Johnson, New Brunswick, N.J.
The Department of Energy's National Renewable Energy Laboratory, Golden, Colo.
The United States Air Force
Yokota Tohoku Co., Tokyo, Japan
Mobile Air Conditioning Society Worldwide, Lansdale, Pa.
Refrigerant Reclaim Australia, Canberra, Australia
Barry G. Rabe, University of Michigan, Plymouth, Mich.
Mayor Gregory J. Nickels, Seattle, Wash.
Susan J. Brown, California Energy Commission, Sacramento, Calif.

2006 Stratospheric Ozone Protection Award Winners:

Kampffmeyer Mills, Hamburg, Germany
Nestlé Purina PetCare North America, St. Louis, Mo.
The Ozone Hole Website, Pocono Pines, Pa.
Australian Strawberry and Vegetable Growers, Australia
California Strawberry Commission, Watsonville, Calif.
The CFC Committee of the Federation of Pharmaceutical Manufacturers' Association of Japan, Japan
COEXPHAL and ECOHAL, Spain
Environmental Investigation Agency, London, United Kingdom
John B. Mueller, Fumigation Service and Supply, Westfield, Ind.
The Ultraviolet Radiation Monitoring Team, United States

2006 EPA Stratospheric Ozone Protection Awards
In 1990, EPA established the Stratospheric Ozone Protection Awards to recognize exceptional leadership, personal dedication, and technical achievements in protecting the Earth's stratospheric ozone layer. In the first sixteen years, The Stratospheric Ozone Protection Award has been presented to 495 individuals, organizations and teams from 40 countries. In 2005, eight individuals, organizations, associations and teams earned the award through originality and public purpose, moral and persuasive leadership, and elimination of emissions of ozone-depleting substances.
Ten 2006 Stratospheric Ozone Protection Awards were presented to winners on Wednesday, May 17, 2006 in Washington, D.C. at an ceremony held at Mayflower Hotel.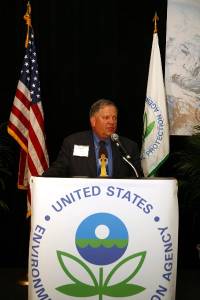 Dr. Stephen O. Andersen U.S. EPA Climate Protection Partnerships Division started the evening with his opening remarks.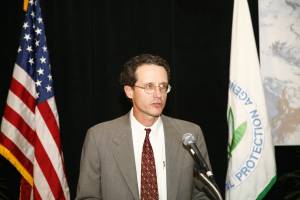 William Wehrum U.S. EPA, Office of Air and radiation gave the keynote address.

Wayne Balta VP Corporate Environmental Affairs and Product Safety IBM was the next speaker.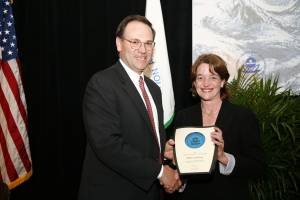 Kathleen Hogan, Director U.S. EPA Climate Protection Partnerships Division presented The 2006 Climate Protection Awards.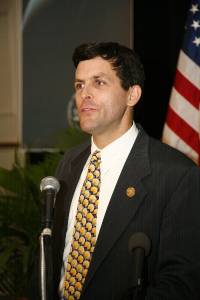 Ross Brennan, Chief, Stratospheric Program Implementation Branch U.S. EPA Stratospheric Protection Division presented the Stratospheric Ozone Protection Awards.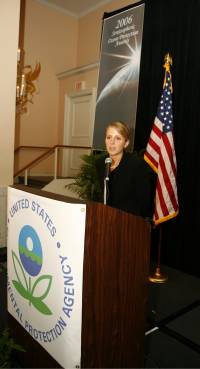 Kristen N. Taddonio, Strategic Projects Manager U.S. EPA Climate Protection Partnerships Division gave the closing remarks of the ceremony.

CORPORATE AWARD
Kampffmeyer Mills
For Leadership in Phasing Out Methyl Bromide in the Food and Bakery Industry
Kampffmeyer Mills, the largest milling group in Europe, has halted their use of methyl bromide at all their milling facilities in Germany and Hungary, where they make one hundred different grain products and raw ingredients for the food and bakery industry. Kampffmeyer is sharing its experience with the European milling industry and has joined with other companies in funding milling demonstrations of ozone-safe alternatives to improve knowledge and speed global phaseout.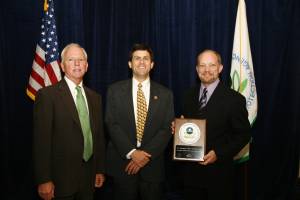 Nestlé Purina PetCare, North America
For Leadership in the Elimination of Methyl Bromide Use in Pet Food Processing
Nestlé Purina PetCare led the pet product industry in phasing out the toxic and ozone-depleting chemical methyl bromide. Thanks to the leadership of Kim Kemp and Larry Dean, methyl bromide is no longer used in any of the company's eight large pet food processing facilities in North America. They accomplished this impressive phase-out through integrated pest management, improved sanitation, and an innovative heat treatment program that is being implemented by food processors throughout the world. Nestlé Purina PetCare generously sponsors workshops to demonstrate this new ozone-safe process technology, and has also trained thousands of pest management professionals and quality control personnel at their Food Safety Symposiums.

The Ozone Hole, Inc.
For Leadership in Protecting the Ozone Layer through Education and Motivating Change
The Ozone Hole is a nonprofit organization dedicated to protecting the ozone layer, the climate and Earth's environment by educating and motivating the public through its internationally respected website, http://www.theozonehole.com . Leading Internet search engines rank The Ozone Hole website as the top destination for information on ozone-related subjects. One particularly laudable feature of The Ozone Hole website is their "Ask the Scientist Program" where leading researchers and scientists answer questions submitted by students and the general public about ozone depletion and atmospheric science.
ASSOCIATION & TEAM AWARDS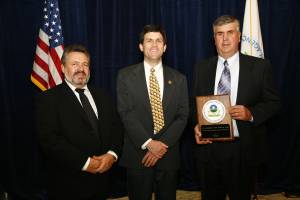 Australian Strawberry and Vegetable Growers
For Leadership and Cooperation in Methyl Bromide Phase-Out in Australia
AUSVEG and Strawberries Australia, representing vegetable and strawberry growers, led the phase-out of methyl bromide in Australia. Tomato, pepper, and cucurbit growers halted methyl bromide use quickly, never needing critical use exemptions. This was achieved by a strong industry-government partnership to implement collaborative, targeted research and adopt alternatives. Farms in the Bundaberg region, once Australia's main user of methyl bromide, now produce 100% of their vegetables using ozone-friendly alternatives. Growers in the Carnarvon region eliminated methyl bromide in 2002. Australian strawberry fruit producers only required a critical use exemption for one year (2005), but have now eliminated methyl bromide use. Australian horticulturists achieved this success through a nationwide network of growers, researchers, extension agents, government and methyl bromide and alternative suppliers dedicated to environmental protection.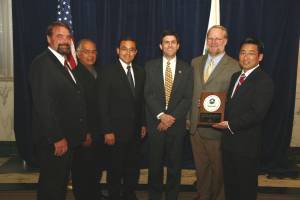 California Strawberry Commission
For Leadership and Cooperation in Reducing Methyl Bromide from U.S. Strawberry Fields
The California Strawberry Commission is the world leader in developing alternatives to methyl bromide and emission reductions. In 1999, methyl bromide was used in 85% of the state's strawberry acreage. By 2004, methyl bromide was reduced to 55% of planted acres. The Commission has funded more than $10 million to federal and state supported research projects, the largest contribution of any agricultural group in the world. These research results have been shared internationally with other agencies. The California strawberry industry is environmentally responsible and committed to producing the world's safest nutritious fruit.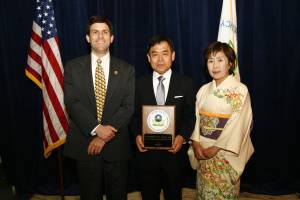 The CFC Committee of the Federation of Pharmaceutical Manufacturers' Association of Japan
For Leadership and Cooperation in CFC Elimination from Metered Dose Inhalers
The fourteen member companies of the CFC Committee of the Federation of Pharmaceutical Manufacturers' Association of Japan (FPMAJ) are world leaders in the transition away from CFC-based metered-dose inhalers (MDIs). They accomplished one of the world's first national CFC-MDI phaseouts. This was done through the combined efforts of individual companies in cooperation with environmental authorities, using an innovative transition strategy that maintained and in many cases improved care for patients with chronic obstructive pulmonary disease and asthma. Today, there are 21 brands of CFC-free alternatives – including HFC MDIs and dry powder inhalers – on the market in Japan. The ozone layer has been protected without adversely affecting the health of patients with respiratory diseases in Japan.
The Association of Harvesters and Exporters of Fruit and Vegetables (COEXPHAL) and the Association of Commercial Suppliers of Horticultural Products of Almería (ECOHAL)
For Leadership in the Phase-Out of Methyl Bromide in Europe
Sixty percent of Spain's fresh vegetables are grown by members of the Association of Harvesters and Exporters of Fruit and Vegetables (COEXPHAL), the Association of Commercial Suppliers of Horticultural Products of Almería (ECOHAL) and others in Almería. All of their vegetables—including tomatoes, peppers, eggplants, melons and other cucurbits—are grown without the use of methyl bromide. COEXPHAL AND ECOHAL worked with other organizations to develop certified production standards for vegetables, promoting integrated pest management and prohibiting the use of methyl bromided. COEXPHAL and ECOHAL actively promoted the use of alternatives among growers. Today, methyl bromide is completely phased out in this major horticultural region, and the producers remain successful in local and international markets.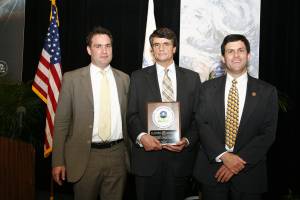 Environmental Investigation Agency
For Leadership and Collaboration in Preventing Smuggling of Ozone-Depleting Chemicals
The Environmental Investigation Agency (EIA) is remarkably brave and successful in exposing illegal trade and use of ozone depleting substances, in motivating policy makers to take action, and in providing assistance to combat smuggling operations. EIA carries out major undercover investigations into the black market for CFCs and halons, exposing the methods and routes used by ODS smugglers around the world, including the U.S. and Europe. EIA tells all, naming companies and individuals in its reports. Close collaboration between EIA and enforcement agencies has led directly to seizures, regional investigations, focused enforcement activity, and more responsible practices by ODS exporters.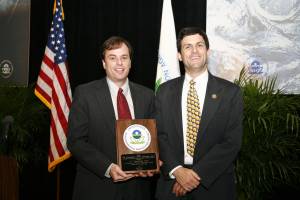 UV Monitoring Team
For Leadership and Teamwork in Collecting and Analyzing Ground-Level UV Radiation Data
The UV Monitoring Team—Terry Keating (US EPA), Patrick Disterhoft (NOAA/CIRES), and Michael Kimlin (formerly of the University of Georgia)—ensured the continued collection and accurate analysis of ground-level ultraviolet (UV) radiation. Since the mid-1990s, the U.S. EPA and various partners have operated a nationwide network of Brewer spectrophotometers, one of the largest networks of its type in the world. Persevering through organizational and funding changes, this team has worked to continue the operation of this unique scientific resource, allowing scientists and policymakers to track the damage from ozone depletion and watch for recovery.
Team Members:
Patrick Disterhoft, U.S. National Oceanic and Atmospheric Administration, Cooperative Institute for Research in Environmental Sciences
Terry Keating, U.S. Environmental Protection Agency
Dr. Michael Kimlin, Institute of Health and Biomedical Innovation, Queensland University of Technology (formerly University of Georgia)
INDIVIDUAL AWARD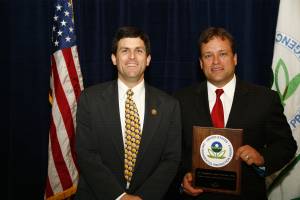 John B. Mueller
For Leadership and Innovation in Implementing Methyl Bromide Alternatives
John Mueller, president of Fumigation Service and Supply, has shown leadership, dedication and achievement in developing and commercializing methyl bromide alternatives. His activities led to the phase-out of methyl bromide in many mills, food processing structures and stored product fumigations in North America. Under John Mueller's leadership, Fumigation Service and Supply performed the first U.S. commercial fumigations with sulfuryl fluoride and the combination of phosphine, carbon dioxide and heat. They continue to implement a full range of alternatives using integrated pest management (IPM). Their innovative fumigation techniques and IPM allow their customers to fumigate less often and avoid using methyl bromide altogether. John Mueller shares his valuable expertise by training fumigators and pest control operators in North America and in other regions of the world.
Previous years winners click here
2006 Climate Protection Award Winners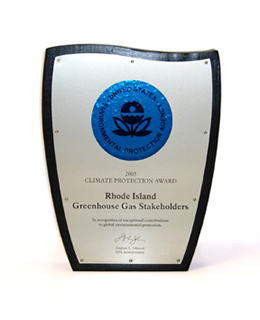 CORPORATE, GOVERNMENT & MILITARY AWARDS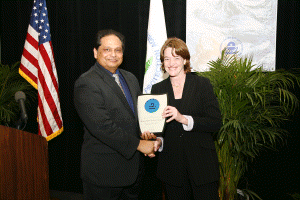 Arizona Public Service Company
In 1994, the Arizona Public Service Company (APS) joined the Department of Energy's Climate Challenge Program and committed to reduce system-wide GHG emissions in absolute tons to below the 1990 level by the target year 2000. APS achieved this ambitious goal, even as total generation grew 21% (from 19.9 to 24.1 million megawatt hours). By the year 2010, APS will reduce carbon intensity by 10% below 2000 level by implementing demand-side management, expanding its renewable energy portfolio, reusing coal combustion by-products, increasing power plant energy efficiency, managing generation fuel-mix, and reducing emissions of sulfur hexafluoride (SF6) used in electric switch gear.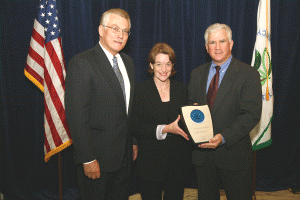 Baxter International Inc.
Baxter International was a charter member of the EPA Climate Leaders program and a founding member of the Chicago Climate Exchange. The firm has partnered with EPA's Performance Track and Energy Star programs to promote responsible actions to protect the environment. Through these voluntary commitments and internal programs, Baxter reduced total greenhouse gas emissions by 35% per unit of production value from 1996-2004. Baxter continues to invest in capital improvements and manufacturing technologies to further reduce its global warming impacts and is currently setting a new greenhouse gas emissions reduction goal for 2010.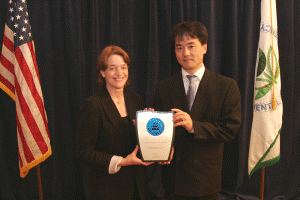 DENSO Corporation
Refrigeration and air conditioning technologies have a large impact on the earth's climate, first because of the power they consume, and secondly, through the refrigerants they use. There are large opportunities to protect the Climate by improving these technologies. DENSO has done this by reducing the energy use and refrigerant emissions of residential heat pumps, vehicle air conditioning and refrigerant units. One extraordinary technology DENSO developed is the Ejector Cycle. When this technology is installed in a refrigeration unit, combined with other complementary breakthroughs in components and controls, it demonstrates efficiency improvements of 50 percent or more and leads to a 70% reduction in refrigerant greenhouse gas emissions. If implemented in every Japanese household and vehicle, DENSO estimates that country-wide emissions would fall by 13,180,000 tons per year. DENSO is also a founding member of the Mobile Air Conditioning Climate Protection Partnership. This partnership pledged to reduce vehicle refrigerant emissions by at least 50% and to improve air conditioning fuel efficiency by at least 30%.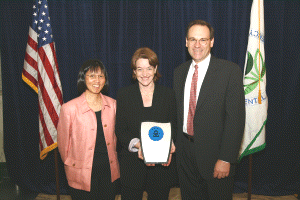 IBM Corporation
Since earning its first EPA Climate Protection Award in 1998, IBM has redoubled its pioneering climate protection campaign and achieved extraordinary results. In 1998, IBM became the first semiconductor manufacturer in the world to announce a company specific perfluorocompound (PFC) emission reduction goal. Upon joining EPA Climate Leaders in 2002, IBM continued to aggressively invest in energy conservation projects; increased the purchase of renewable energy on a worldwide basis; developed and implemented process conversions to reduce high-global warming impact PFC emissions from its semiconductor manufacturing; and significantly increased employee participation in car pools and working from home. Between 2000 and 2005, IBM achieved an annual average CO2 emission reduction of 6.2% by implementing energy conservation projects and purchasing renewable energy, and reduced its PFC emissions by a total of 61.9%. In 2005, IBM avoided 485 thousand metric tons of CO2 emissions, which is equivalent to not burning nearly 1.1 million barrels of oil.
IBM is the first corporation to earn two EPA Climate Protection Awards.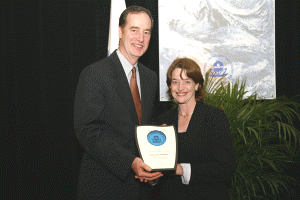 Johnson & Johnson
In 2005, Johnson & Johnson purchased more green power than any other corporation in the United States. This outstanding support of renewable energy has earned it the EPA Green Power Leadership Award for the past four years. Each Johnson & Johnson facility chooses how to capitalize on local renewable energy opportunities, with projects ranging from a landfill gas combined heat and power project in California to photovoltaic solar energy cells in New Jersey. The company now purchases over 304,000 Megawatt hours of renewable energy annually in the US and generates a significant amount of its own green power through on-site solar and landfill gas projects. Johnson & Johnson has committed to reducing its carbon dioxide emissions to 7 percent below 1990 levels by 2010, in absolute terms, and believes green power will play a major role in achieving that target. As of the end of 2005, the company's carbon dioxide emissions worldwide were 11.5% below 1990 levels.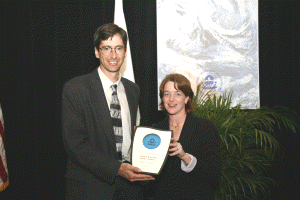 The National Renewable Energy Laboratory
The Department of Energy's National Renewable Energy Laboratory (NREL) is a world leader in renewable energy technology, including development and testing of sustainable energy technology. Their research and engineering activities are the basis of numerous important advances in photovoltaics, wind energy, building technology, advanced vehicle and automotive systems, solar thermal electric, hydrogen, superconductivity, geothermal power, and distributed energy. NREL is a founding member of the U.S. EPA Green Power Partnership and the Mobile Air Conditioning Climate Protection Partnership. NREL was also the first federal participant in the EPA Climate Leaders Partnership (CLP). NREL was one of five CLP members to set and successfully meet a greenhouse gas emissions reduction goal (10 percent per square foot from 2000 to 2005). Additionally, NREL's analytical contribution to the EPA Mobile Air Conditioning Climate Protection Partnership will allow the automotive community to prevent over 35 billion kilograms of carbon dioxide equivalent emissions annually and save the average consumer hundreds of dollars over the life of their vehicle.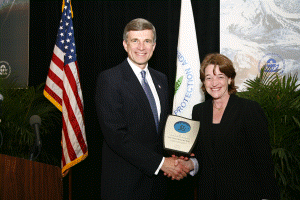 The United States Air Force
The U.S. Air Force has demonstrated outstanding commitment to the use of renewable energy by becoming America's largest green power customer and by investing in significant on-site biomass, wind farm, and photovoltaic generation. In 2004, the Air Force's purchase of 321 thousand megawatt hours of green power earned them the top ranking in the U.S. EPA Green Power Partnership and the Green Power Partner of the Year Award. In 2005, the Air Force expanded on-site renewable energy projects and increased green power purchases by over 300%, making them one of the first organizations in the world to purchase over one million megawatt hours of green power. These impressive efforts currently reduce CO2 emissions by 1.38 billion pounds annually-equivalent to saving 1.5 million barrels of oil or taking 135,000 cars off the road.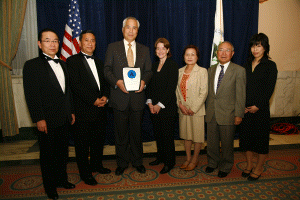 Yokota Tohoku, Inc.
Yokota Tohoku company is committed to developing products that protect the environment. In 1995, Yokota Tohoku designed a new process to manufacture food containers that are recycled with far less energy use and greenhouse gas emissions. The "re-re-pack" process also reduces environmental pollutants, creates less solid waste, and reduces the use of water, water heating, and detergents. Yokota Tohoku goes even further beyond the call of duty with public education programs that encourage customers to avoid waste by reusing and recycling, and has created a visitor center dedicated to environmental protection. Yokota's combined efforts save energy, reduce environmental impacts, and promote higher environmental literacy among children and customers.
ORGANIZATION & ASSOCIATION AWARDS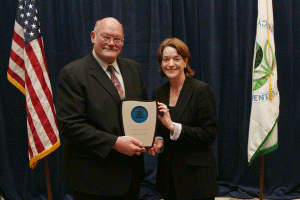 Mobile Air Conditioning Society Worldwide
The Mobile Air Conditioning Society (MACS) is the global leader in improving the environmental performance of vehicle air conditioning service. When CFC refrigerant emissions from automotive air conditioning were discovered to cause severe damage to the Ozone Layer, MACS was the first to promote refrigerant containment, recovery and recycling to automotive technicians through their training programs, conventions, publications, website, and networking activities. As a result of their actions, which have been copied worldwide, millions of pounds of ozone-depleting CFC refrigerant were kept from being vented to the atmosphere. Now, MACS is an integral member of the Mobile Air Conditioning Climate Protection Partnership that is working to reduce HFC greenhouse gas refrigerant emissions by at least 50% and to improve air conditioner efficiency by at least 30%. Thanks to MACS, the vehicle air conditioning industry is at the forefront of environmental responsibility.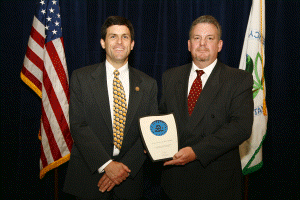 Refrigerant Reclaim Australia
Since its founding more than a decade ago, Refrigerant Reclaim Australia (RRA) has collected and destroyed more than 1350 metric tons of mixed fluorocarbon refrigerant, reducing greenhouse gas emissions by the equivalent of approximately seven million tons of CO2. RRA is a not-for-profit, industry-funded company that is responsible for the recovery and safe destruction of refrigerants in Australia. In the original business plan, importers of fluorocarbon refrigerants voluntarily contributed A$1 per kilogram of refrigerant imported to pay the costs of refrigerant management, including a bounty for refrigerants returned to a national facility for safe destruction in a plasma-arc furnace. More recently, the Commonwealth legislature introduced product stewardship as a requirement for importers of refrigerant, including that contained in equipment, to formalize the program. The current bounty paid for return of contaminated refrigerants is A$5 per kilogram. They also take back material for destruction from other countries, including material from New Zealand and Indonesia.
INDIVIDUAL AWARDS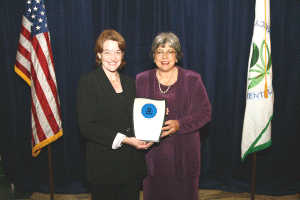 Susan J. Brown
Susan Brown's commitment to climate protection has inspired professional and elected officials to take action at state and local levels throughout California. She represents the State of California on the tri-state West Coast Governor's Global Warming Initiative, coordinates California's stakeholder input process for climate action planning, leads the state's energy team in strategizing to reduce greenhouse gas emissions, and advocates for local government participation in the state's response to global warming. Susan Brown was particularly influential in crafting the West Coast Governor's Global Warming Initiative-the leading state action on climate change in the United States.

Gregory J. Nickels
Seattle Mayor Gregory Nickels demonstrated extraordinary leadership and personal dedication by creating the U.S. Mayors Climate Protection Agreement, under which over 200 mayors representing more than 44 million Americans in 39 states have committed to climate protection. Under this agreement, cities agree to take three actions: 1. Meet or beat the Kyoto Protocol targets; 2. Urge state and federal governments to meet or beat Kyoto Protocol greenhouse gas emission reduction targets; and 3. Urge the U.S. Congress to pass bipartisan greenhouse gas reduction legislation and establish a national emission trading system. In June 2005, the U.S. Conference of Mayors strengthened cities' resolve by unanimously endorsing the U.S. Mayors Climate Protection Agreement. Mayor Nickels has succeeded in raising public awareness locally and nationally and has demonstrated the role of local governments on this critical environmental and economic issue. His leadership has energized climate protection work in many communities throughout the USA.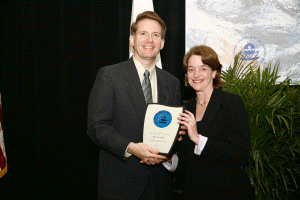 Barry G. Rabe
Professor Barry G. Rabe (Gerald R. Ford School of Public Policy, University of Michigan) was the first to document and analyze how and why U.S. states are taking the lead on climate protection. His research, publications, speeches and one-on-one interactions guide and inspire states to select successful climate protection strategies that build prosperity while protecting the environment for future generations. Professor Rabe has documented how states from all regions of the United States have pursued cost-effective strategies that lower their climate impact. As a result of his work, politicians and the public know how states can combat climate change. Dr. Rabe also holds appointments in the University's Program in the Environment and School of Natural Resources and Environment. He continues to pursue research on the evolution of renewable portfolio standards; strategies to build collaboration across state boundaries; policy differences between U.S. states and Canadian provinces, and prospects for further U.S.- Canadian collaboration on climate change.