Do Not Burn
Five or more sunburns doubles your risk of developing skin cancer.

Avoid Sun Tanning and Tanning Beds
UV light from tanning beds and the sun causes skin cancer and wrinkling. If you want to look like you've been in the sun, consider using a sunless self-tanning product, but continue to use sunscreen with it.
Generously Apply Sunscreen
Generously apply sunscreen to all exposed skin using a Sun Protection Factor (SPF) of at least 15 that provides broad-spectrum protection from both ultraviolet A (UVA) and ultraviolet B (UVB) rays. Reapply every two hours, even on cloudy days, and after swimming or sweating.
Wear Protective Clothing
Wear protective clothing, such as a long-sleeved shirt, pants, a wide-brimmed hat, and sunglasses, where possible.
Seek Shade
Seek shade when appropriate remembering that the sun's UV rays are strongest between 10 a.m. and 4 p.m. Remember the shadow rule when in the sun: Watch Your Shadow. No Shadow, Seek Shade!
Use Extra Caution Near Water, Snow and Sand
Water, snow and sand reflect the damaging rays of the sun, which can increase your chance of sunburn.
Watch for the UV Index
The UV Index provides important information to help you plan your outdoor activities in ways that prevent overexposure to the sun. Developed by the National Weather Service (NWS) and EPA, the UV Index is issued daily in selected cities across the United States.
Get Vitamin D Safely
Get vitamin D safely through a diet that includes vitamin supplements and foods fortified with Vitamin D. Don't seek the sun.

http://www.epa.gov/sunwise/index.html
Early detection of melanoma can save your life. Carefully examine ALL of your skin once a month. A new or changing mole in an adult should be evaluated by a dermatologist.
Credit: EPA Sunwise Program
Energy from the sun reaches the earth as visible, infrared, and ultraviolet rays
ultraviolet C (UVC) wavelengths are 100 to 280 nm
Only UVA and UVB ultraviolet rays reach the earth's surface. The earth's atmosphere absorbs UVC wavelengths.
UVB rays cause a much greater risk of skin cancer than UVA.

However, UVA rays cause aging, wrinkling, and loss of elasticity.

UVA also increases the damaging effects of UVB, including skin cancer and cataracts.
The UV Index bulletin and map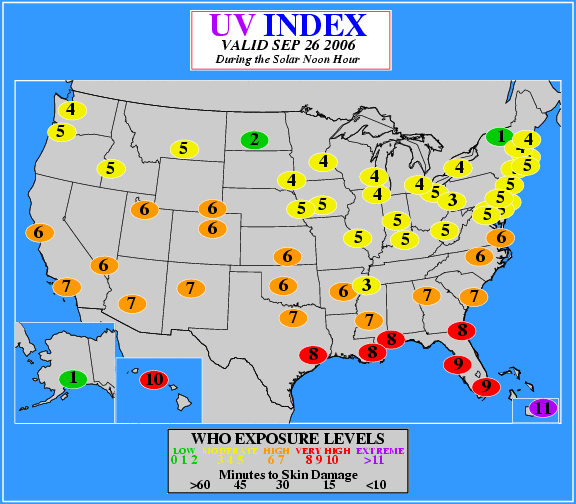 NOAA/ National Weather Service National Centers for Environmental Prediction Climate Prediction Center
http://www.cpc.ncep.noaa.gov/products/stratosphere/uv_index/uv_current.shtml
WMO UV Index Pages

click on logos

Argentina
Argentina's National Commission on Space Activities offers UV index levels for a number of cities in Argentina as well as some cities in other South American counties and Mexico. The accompanying information is in Spanish.
Australia
Daily UV Index for Australia as a color map supplied by the Australian Bureau of Meteorology. This site is updated daily
Austria
Clear sky UV Index estimates for Austria and the entire world, updated daily
Canada
Canada's site on UV radiation offers the latest UV predictions as well as information of general interest on UV. This site is offered in both French and English.
Denmark
UV Index and ozone information for the general public. Forecast of UV Index for different parts of Denmark, updated daily. This site is currently in Danish only.
Finland
Ozone and UV Index and information for the general public including recent ozone and UV measurements as well as UV Index forecasts. This site is updated daily. Some of the accompanying text is in Finnish.
Germany
The UV index is provided daily by the The Deutscher Wetterdienst and Bundesamt für Strahlenschutz. This site also provides monthly mean levels for select cities around the world.
New Zealand
Daily UV Index and ozone maps and data, as well as historical records. The information is supplied by New Zealand's National Institute of Water and Atmospheric Research and is updated daily.
Sweden
Daily UV Index for Sweden for different parts of the country supplied by the Swedish Meteorological Service. This site is updated daily.
UK
These Met Office forecasts include the effects of: the position of the sun in the sky; forecast cloud cover; ozone amounts in the stratosphere.
US
NOAA's UV Index page offers daily maps of the UV index as well as maps of monthly mean levels and past levels.
US
Daily UV Index for U.S. cities in text format supplied by the National Weather Service; this site is updated daily.
US
Daily UV Index for the U.S. as a color map supplied by the National Weather Service; this site is updated daily.