EPA Honors Climate Change, Ozone Layer Protection Award Winners
In 1990, The United States Environmental Protection Agency (EPA) created theStratospheric Ozone Protection Awards to recognize outstanding contributions to the protection of the Earth's ozone layer. Since then, 554 individuals, companies, organizations, and teams from 54 countries have been honored for their dedication and accomplishments. The recipients of the awards have demonstrated originality and public purpose, persuasive moral and organizational leadership, and elimination of emissions of ozone-depleting substances. EPA's Awards are particularly prestigious because of the international breadth and scope of impressive accomplishments by the award recipients.
"Perhaps the single most successful international agreement to date has been the Montreal Protocol."
-Kofi Annan, Former Secretary General of the United Nations
Just as the science, technology and awareness in ozone layer protection advances and evolves, so do the EPA awards. In 2009, EPA expanded the awards to include notable achievements that improved public awareness of the health effects of overexposure to ultraviolet radiation. Despite greater public awareness of health risks associated with overexposure to harmful radiation from the sun, skin cancer continues to be the most diagnosed cancer in the U.S., with rates of malignant melanoma, the rarest and most often fatal form of skin cancer, on the rise. The World Health Organization confirms that this trend is repeated all over the world. While incidence increases, options to treat this cancer do not. In the U.S., particularly for rural, disadvantaged or medically-underserved populations, melanoma is often fatal. Promoting greater understanding of the relationship between ozone layer depletion, ultraviolet radiation, and health effects continues to be an important additional focus of the awards.
In 2010, EPA is renaming the awards the "U.S. EPA Montreal Protocol Awards" and will honor achievements in ozone layer protection, climate protection, and human health protection through sun safety. The public understands the issue of ozone depletion due to the success of the international treaty addressing this environmental problem, the Montreal Protocol, which is widely considered to be the most successful multilateral environmental treaty in history. Although the ozone layer is on track to recover this century, researchers at the National Aeronautics and Space Administration have studied the "world avoided" – the catastrophic implications for the ozone layer if the community of nations had not agreed to solve this problem. These implications, in addition to widespread media coverage of the Antarctic "ozone hole," underscore the tremendous value of the awardees' contributions to protecting the planet and public health.
Announcing the 2010 U.S. Environmental Protection Agency Montreal Protocol Award Recipients!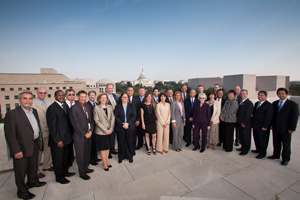 This year's distinguished group of awardees inspire other individuals and organizations to make a difference in protecting the environment through their demonstrated commitment and extraordinary contributions. The awardees are:
Individual Awardees
A. Stanley Culpepper: A. Stanley Culpepper of the University of Georgia, U. S., is a leader in the search for methyl bromide alternatives. He has initiated more than 60 trials to evaluate the efficacies and cost-effectiveness of various compounds, and then applied these research results to large-scale production operations to validate or refute their application in real-world settings. These efforts have led to the adoption of a successful alternative, the UGA 3-WAY, on almost 70 percent of the plasticulture acreage in Georgia. Georgia vegetable producers have saved more than $4 million as a result of his efforts.
Dr. Culpepper's work also has focused on ensuring that vegetable production workers and their surrounding environments are protected. He was able to provide new scientifi c data to defi ne buffer zones, adjust field re-entry times and develop protocols for emissions monitoring. The benefits accrue to agricultural workers, farms, adjacent environments, and the public. Dr. Culpepper has shared his ozone layer- saving data at more than 35 vegetable production meetings in Georgia, Florida and the surrounding region.
Steve Gorman: Steve Gorman has devoted his career to the protection of the ozone layer through positions with the government of Canada, U.N. Environment Programme (UNEP) and the World Bank. As a delegate from Canada, Mr. Gorman attended the third meeting of the Executive Committee of the Multilateral Fund for the Implementation of the Montreal Protocol, and in the 20 years since, has brought important contributions, participating in more meetings than any person alive. His initial success as a delegate from Canada included helping to create the Fund's infrastructure and complete its first evaluation.
Mr. Gorman then became UNEP's first ozone network coordinator. He created a system of outreach that enabled close interaction with regional coordinators and the National Ozone Units in more than 100 countries. He helped to craft solutions that enable developing countries to comply with the Montreal Protocol.
Later, Mr. Gorman headed the World Bank's Ozone and Global Environment Facility portfolios. He leveraged scarce resources to enable the development and implementation of robust projects that often achieved energy efficiency and climate benefits, as well as ozone layer protection value. He oversaw the development and execution of almost all of the projects used to close the CFC and halon production sectors in developing countries.
Alice M. Law: Alice Law served as CFC Coordinator for U.S. EPA's Region 7 until her retirement in 2006. Ms. Law was the technical lead on several cases that had national significance. For example, she was instrumental in a national case against a chemical manufacturer that illegally released ozone-depleting substances (ODS) from industrial process refrigeration systems at 22 facilities in 18 states. A settlement required the conversion of all the company's industrial refrigeration systems that used ODS in the U.S. to systems with alternative refrigerants.
Ms. Law was also an integral part of a landmark case that resulted in the largest civil settlement for U.S. ozone layer protection to date. In 2000, a commercial bakery with facilities in several states was found to be releasing thousands of pounds of CFCs through unrepaired leaks. Ms. Law's efforts built the record of violations. This case helped the U.S. EPA identify and energize a particular industry sector to revamp approaches and improve overall environmental protection.
Ms. Law also worked diligently to educate facilities in the region about emissions reduction and proper disposal of appliances containing ODS, spreading knowledge throughout Kansas, Iowa, Nebraska, Missouri and nine tribal nations.
Marcia Levaggi: Marcia Levaggi has been an outstanding contributor to the Montreal Protocol for more than a decade. She has dedicated many hours to helping further the mission of the Montreal Protocol. Her skills as a well-prepared, sharp negotiator for Argentina and a consensus builder among the parties to the agreement led to her selection as a leader in the protocol regime. Specifically, as chair of the executive committee, she guided the body through many key decisions that helped facilitate the cost-effective phaseout of ODS in developing countries.
As chair of the Open-Ended Working Group at the Meeting of the Parties on the 20th anniversary of the protocol, her patience and skills as a consensus builder helped the parties reach the historic decision to accelerate the phaseout of HCFCs, a decision with both ozone layer and climate implications. Ms. Levaggi has worked above and beyond her normal capacity to help shape the success of the Montreal Protocol.
Janos Maté: Janos Maté of Greenpeace International has been a strong voice for the ozone layer and Earth's atmosphere for nearly 20 years. Most recently, he represented Greenpeace in a partnership of organizations that developed SolarChill coolers to meet medical needs in remote locations. Using solar power, they provide safe, reliable refrigeration to keep vaccines viable. Besides being ozone layer- and climate-friendly, SolarChill devices are more dependable than battery-powered coolers and do not contain heavy metals.
Since 1992, Mr. Maté has been active with Greenpeace's ozone layer and global climate campaign, active in meetings of the parties to the Montreal Protocol and active in related technical and policy events. He organized demonstrations in Canada during the 1990s to raise awareness of ozone layer depletion. He has written research papers and articles and produced two technical videos. Mr. Maté is also the recipient of the United Nations Montreal Protocol Partners Award. He influenced industry sponsors of the 2000 Summer Olympics to use ozone- and climate-friendly technologies. Mr. Maté has adroitly organized, politely cajoled, insistently nudged, and powerfully admonished on behalf of the Earth's ozone layer.
Craig Sinclair: Craig Sinclair is a pioneer in skin cancer prevention. He has worked diligently in leadership roles at the Cancer Prevention Centre for Cancer Council Victoria, the World Health Organization's Collaborative Centre for UV Radiation and the Skin Cancer Committee of the Cancer Council in Australia.
Cancer Council Victoria and the Victorian Health Promotion Foundation jointly fund the SunSmart program in Australia. This program, begun 16 years ago, has led the world in skin cancer prevention and helped pave the way for other successful health promotion programs.
The SunSmart Schools program encourages healthy, balanced sun protection habits for life. Schools not only encourage and reinforce these habits but change behavior through the family network. Schools also work to implement physical changes to their landscapes to protect against ultraviolet exposure.
Under Mr. Sinclair's leadership, Victoria is the national leader in solarium legislation across Australia and in increased use of hats and sunscreens, reductions in sunburn and a decrease in people's desire for tanning. Commitment and cooperation among government, commercial and community agencies have brought changes in social norms and decreased rates of skin cancer among young people in Australia.
Air Marshal AK Singh (Ret): Air Marshal AK Singh (Ret) has had a very successful and distinguished career spanning 40 years in the Indian Air Force. He has effectively championed the environmental cause globally. He is a great resource about ozone layer protection for UNEP.
Mr. Singh has highlighted the connectivity between the phaseout of ODS, climate change and national security in many national and international seminars and conferences. He has extensively contributed to building global awareness on this crucial subject. Mr. Singh has served as the chairman of an international military advisory council at the Institute for Environmental Security, whose mandate was to advise the policymakers of the security pitfalls of not reaching a robust agreement on climate change.
Air Marshal AK Singh is a lead author of a UNEP publication, Ozone Protection and National Security: A Military Perspective, Toolkit for Defence Forces. This publication provides information to defense establishments across the globe on the design and implementation of ozone-friendly approaches in military equipment, operations and maintenance activities. He has brought the issue of ozone layer protection to the highest political and armed forces personnel in India and elsewhere in Asia and Pacific region.
Air Marshal AK Singh has written and presented many papers on the management of ODS in armed forces and the concept of a "Green Army." He is an excellent orator, and he has used this skill while addressing many a civil and military workshop to drive home the message of resource efficiency. He has been honored with four Presidential awards and one National award in India for exceptional contribution in related fields.
T.J. Wallington: T. J. Wallington is a leader in understanding the scientific properties of CFC replacements and has studied the atmospheric chemistry of a large variety of HFCs, HCFCs, HFEs (hydrofluoroethers) and FTOHs (fluorotelomer alcohols). The compounds are used in a variety of automotive and non-automotive applications, including refrigerants, paints, coatings, polymers, adhesives, waxes, polishes, caulks and heat transfer agents.
Working with colleagues in industry, academia and national laboratories, Dr. Wallington has coauthored more than 100 peer-reviewed scientific articles on the chemistry of CFC replacements and related compounds. He has made substantial contributions to the scientific knowledge of the atmospheric lifetimes, chemical degradation mechanisms and impacts on stratospheric ozone and climate change of CFC replacements.
Dr. Wallington's work has contributed significantly to the scientific understanding that HFC-134a does not threaten ecosystems with toxic degradation products, does not pose any significant risk to stratospheric ozone and has a global warming potential that is approximately a factor of eight less than that for CFC-12. This recognition that HFC-134a was an acceptable early replacement for CFC-12 contributed to its global adoption in vehicle air conditioning. Dr. Wallington has not stopped researching alternatives; indeed, today he is assessing the atmospheric lifetimes, global warming potentials and environmental acceptability of next-generation refrigerants.
Tata Young: Tata Young is a Thai-American recording artist, model and actress. Since 2008, Ms. Young has been collaborating with UNEP's OzonAction Compliance Assistance Programme (CAP) Regional Office for Asia and the Pacific to raise public awareness about ozone layer protection among millions of people in the region.
Ms. Young was featured in a "My Ozone Wish" public service announcement, featuring a variety of well-known individuals from countries across Asia and the Pacific region. She assisted UNEP in launching the Ozzy Ozone cartoon booklet, Ozzy Goes Island Hopping, raising awareness among children about ozone layer protection and climate change.
Ms. Young collaborated with the CAP team and the European Commission to perform at the EU Green Days: What on Earth Concert in Bangkok in October of 2009. She sang songs and encouraged people to use ozone-friendly products. While promoting her latest album, Ms. Young has placed on the CD cover a sticker designed by the UNEP CAP team. The sticker says, "Protect Yourself, Protect the Ozone Layer." She also agreed to build a long-term collaboration with the CAP on ozone protection and climate change.
Team Awardees
British Antarctic Survey Team: The British Antarctic Survey (BAS) team of Joe Farman, Brian Gardiner and Jonathan Shanklin published the research paper that marked the discovery of the Antarctic ozone hole 25 years ago. This has become one of the most cited papers in atmospheric environmental sciences and continues to generate media and public interest. Their discovery of the ozone hole was influential in leading all United Nations countries to sign the Montreal Protocol.
Joe Farman and Brian Gardiner are now retired, while Jonathan Shanklin is head of the BAS Meteorology and Ozone Monitoring Unit (MOMU). All three have had hands-on experience measuring ozone in the Antarctic using the Dobson ozone spectrophotometer. They also have conducted observations using balloonborne sondes.
The team members have published many articles in scientific and popular literature, as well as contributed to countless interviews in the media. Mr. Shanklin and the current MOMU team are actively involved in outreach to schools, promoting understanding of the ozone layer and climate change and inspiring children to study science.
The HCFC-22 Illegal Import Prevention Team: As a parallel to what happened when CFCs were phased out in developed countries, it comes as no surprise that there is now high demand for illegal ozone depleting substances (ODS). For this reason, it is urgent for federal agencies to monitor the trade and prevent emerging forms of trafficking triggered by the phaseout. This team is sending signals that illegal importation of HCFC-22 into the United States (U.S.) will result in major penalties, discouraging others from potential smuggling.
To legally import HCFC-22 under the U.S. Clean Air Act, one must hold an unexpended consumption allowance granted by EPA. The importers in this action illegally imported approximately 420,000 kilograms of restricted HCFC-22 with a market value of more than $3.9 million. At no time did they hold the necessary consumption allowances. The head of the company pled guilty and received a substantial prison term, and the company is paying a hefty fine.
The action was part of ongoing coordination among federal partners to implement the phaseout of HCFCs and prevent illegal imports. Actions such as these ensure that the U.S. meets its obligations under the Montreal Protocol to control the consumption of ODS. These actions also ensure that companies acting within the law are not disadvantaged or undercut in price. Perhaps most importantly, this highly-publicized case culminated at the onset of the 2010 step-down in HCFC-22. Without strong signals that illegal imports will be seized and criminals will be prosecuted, others would try to smuggle and sell illegal HCFC-22.
The team consists of:
Thomas A. Watts-FitzGerald, U.S. Attorney's Office, Southern District of Florida;
Jodi Mazer, U.S. Environmental Protection Agency, Criminal Enforcement Counsel;
Oswaldo Romero, Jr., U.S. Environmental Protection Agency, Criminal Enforcement Division;
Maureen O'Mara, U.S. Environmental Protection Agency, Criminal Enforcement Division;
Andy Castro, U.S. Environmental Protection Agency, Criminal Enforcement Division;
Giddel Casadesus, U.S. Department of Homeland Security, Immigration and Customs Enforcement; and
James Weir, U.S. Department of Homeland Security, Immigration and Customs Enforcement.
Organization Awardees
Congressional Families Cancer Prevention Program: The Congressional Families Cancer Prevention Program was founded in 1991 as a partnership between the Congressional Club and the nonprofit Prevent Cancer Foundation. The program is a bipartisan effort to increase the public's understanding of cancer prevention and early detection. The program has 150 members, representing families of Senate, House, Cabinet and Supreme Court members. They work to educate the public on the significance of cancer prevention and early detection in saving lives. The Congressional Families Program has shown outstanding leadership in raising awareness about the harmful effects of ultraviolet radiation.
Members take important awareness and prevention messages back to their home communities. Their methods include:
Appearing in televised public service announcements;
Speaking to civic and other community groups;
Writing articles and opinion-editorial columns for local newspapers and newsletters;
Appearing on local television and radio talk shows; and
Participating in health fairs, special events and conferences.
The program empowers community members to make lifestyle choices that reduce their risk for various preventable cancers, such as skin cancer.
Swedish International Development Cooperation Agency (Sida): Work by the Swedish International Development Cooperation Agency (Sida) has significantly contributed to the successful implementation of the Montreal Protocol across the globe.
The Ozone Depleting Substances Officers Network in the South East Asian/Pacific Region (ODSONET/SEAP) was set up in 1993 to provide institutional structure for sharing experience and ideas on phaseout measures for ODS. This network idea originated from the experience of the countries of Denmark, Finland, Iceland, Norway and Sweden, which had formed an informal and highly productive network of their ozone officers. There are now 10 regional networks involving 148 developing and 14 developed countries.
In the early 2000s, developing countries were concentrating their efforts in carrying out national plans to phase out CFCs. With support from Sida, the Stockholm Environment Institute and the U.N. Environment Programme teamed up to start a regional project to improve monitoring and control of ODS in the South East Asia and the Pacific region. This project has improved cooperation between Customs and National Ozone Units, increased efforts by Customs to address environmental crime issues and prevented illegal trade from undermining national phaseout efforts.
Corporate Awardees
American Refrigeration Supplies, Inc.: American Refrigeration Supplies, Inc. (ARS) is leading the way to recover refrigerants that otherwise would be left in recovery cylinders and ultimately released into the atmosphere. ARS collected nonreturnable refrigerant cylinders from customers when the cylinders were considered to be empty and determined how much refrigerant was actually still remaining and could be recovered. This procedure showed that a sizeable quantity of emissions could be prevented if the current industry practice in the commercial refrigeration sector were changed.
ARS is being recognized for their leadership in more appropriate handling of refrigerant containers, and for implementing this practice into the ARS business plan. This practice results in a major environmental benefit by reducing refrigerant emissions and increasing recycling of both the refrigerants and their containers.
Food Lion LLC: Food Lion LLC was one of the first companies to commit to EPA's GreenChill Partnership. In 2009, Food Lion converted 103 R-22 systems at 70 stores to alternative refrigerants, removed and replaced approximately 26,000 kilograms of hydrochlorofl uorocarbons (HCFCs), and reduced the company's overall HCFC refrigerant charge by nearly 3 percent. Through routine leak testing, quarterly reporting, and benchmarking by maintenance technicians on leak rates, Food Lion has achieved a 7.4-percent reduction in its corporate-wide commercial refrigeration emissions rate since joining GreenChill.
Food Lion was the first GreenChill partner to pioneer the new generation of secondary loop refrigeration systems in mediumtemperature and low-temperature systems. Data from these systems were instrumental in the success and expansion of secondary loop technology throughout the supermarket industry. Food Lion now has five stores that use advanced refrigeration systems with glycol and/or carbon dioxide (CO2), which reduce the amount of refrigerant needed by more than half. In 2009- 2010, Food Lion was again at the forefront of new refrigeration technology in the United States by opening three stores that use cascading CO2 refrigeration systems, two of which received GreenChill Gold-Level Store Certification for store emissions reductions of 75 percent versus the industry norm.
PT Garuda Maintenance Facility Aero Asia and Indonesian Halon Bank: PT Garuda Maintenance Facility Aero Asia (GMF), a subsidiary of Garuda Indonesia, the country's flag carrier, is a leader in halon management in the region. Since Indonesia's ozone layer protection program began, GMF has been actively involved in phasing out of ozone-depleting substances. The Indonesian government appointed GMF to manage the Halon Bank in March of 2000. The Bank has conducted seminars and workshops for the halon phaseout program and has set up the necessary facility and equipment to properly identify, store and recycle halons. The Halon Bank has collected 30,000 kilograms of halon 1301 and 1211 and supplied recycled halon for critical uses, especially in aircraft maintenance.
The Bank also has shared its experience in halon management in collaboration with the U. N. Environment Programme's Compliance Assistance Programme. As part of the South-South Cooperation initiatives, in August 2009, representatives of military organizations and the national ozone offi ces of Sri Lanka and India visited Garuda Maintenance Facility to learn best practices in halon bank management and to exchange views on chlorofluorocarbon (CFC) and halon phaseout practices in defense establishments. Additionally, ozone officers from Timor Leste, the latest party to the Montreal Protocol, visited GMF for benchmarking practices for halon management.
GMF focuses on the maintenance, repair, and overhaul of commercial aircraft, components and engines. It maintains not only the Garuda Fleet and domestic airlines, but also equipment and aircraft from across Asia and the Pacific region, as well as some from the Americas, Europe, Australia, the Middle East and Africa.
Giant Eagle, Inc.: Founded in 1931, Giant Eagle, Inc. is one of the nation's largest food retailers and food distributors with approximately $8.2 billion in annual sales. The company has grown to be the number one supermarket retailer in its region with 224 supermarkets in addition to 157 fuel and convenience stores throughout western Pennsylvania, Ohio, West Virginia and Maryland.
Giant Eagle, Inc. has received the EPA GreenChill Partnership's Best Emissions Rate Award every year to date. "Business-as-usual" refrigerant leak rates in the supermarket industry are estimated at 20-25 percent annually. Giant Eagle's investment in infrared leak detection management systems resulted in a corporate-wide refrigerant emissions rate of 7 percent, transforming industry assumptions about the emissions reductions that supermarkets can achieve. Giant Eagle continues to design and build stores to minimize emissions, using well-designed piping arrangements, a minimum of mechanical joints, low-leakage components, proper pipe supports and good pressure testing and evacuation procedures. Medium-temperature secondary loop systems with glycol are now standard in new stores.
Giant Eagle's effort to reduce refrigerant emissions resulted in the Giant Eagle Carbon Credit project, approved by the Voluntary Carbon Standard Association, which was the first of its kind to be published world-wide
Corporate and Government Awards
Hill PHOENIX, Inc, USA
Kraft Foods, USA
Arysta LifeScience North America LLC and Research Team, USA

Husein Ajwa
Joe Noling
Dan Chellemi
Erin Rosskopf
Greg Browne
Frank Sances
Association and Team Awards
Allergy and Asthma Network Mothers of Asthmatics, USA
Centre for Environment Education, India
Nepali Times
Secretariat of the Pacific Regional Environmental Program (SPREP)
Individual Awards
Pieter J. Aucamp, South Africa **
Janet F. Bornman, New Zealand*
Christer Carling, Sweden *
Samira de Gobert, France
Hideo Mori, Japan *
Paul Newman, USA **
Sokharavuth Pak, Cambodia
Alessandro Giuliano Peru, Italy
Phyllis Putter, USA
Dan Reifsnyder, USA
Shonda Schilling, USA
Manfred Tevini, Germany *
Adyasuren Tsokhio, Mongolia
You Yizhong, China *
Release date: 05/19/2008
Contact Information: Dave Ryan, 202-564-4355 / ryan.dave@epa.gov

(Washington, D.C. - May 19, 2008) EPA today honored 39 individuals, organizations and companies from around the world for their outstanding efforts to protect the Earth's climate and stratospheric ozone layer. The award recipients have demonstrated ingenuity and leadership by reducing greenhouse gas emissions, negotiating international agreements to protect the ozone layer and climate, and spreading awareness about the importance of these issues.

"Efforts to help restore the ozone layer and fight climate change will benefit the planet for generations to come," said Bob Meyers, principal deputy assistant administrator for EPA's Office of Air & Radiation. "We commend the 2008 Climate and Ozone Layer Protection Award winners for their work to protect our environment."

The 2008 Climate Protection Award winners have contributed greatly to scientific understanding of climate change and its impacts on human health and the environment. They have also generated on-site wind and solar power, increased energy efficiency, introduced new technologies to reduce greenhouse gas emissions from mining, and slashed the use of potent greenhouse gases.

The 2008 Stratospheric Ozone Layer Protection Award winners have strengthened the international Montreal Protocol on Substances that Deplete the Ozone Layer. The Protocol now calls for a faster phase-out of ozone depleting substances called HCFCs, which are also potent greenhouse gases. The winners are also responsible for the eliminating ozone-depleting substances in medical, agricultural, aviation, and shipping applications where alternatives are difficult to implement.

The 10th annual Climate and Ozone Layer Protection Awards were presented today at the Kennedy Center in Washington, DC. Since the annual Ozone Layer Protection Awards began in 1990, EPA has honored 533 recipients from 46 different countries. EPA began the Climate Protection Awards in 1998 and has so far recognized 154 recipients from 18 countries for outstanding efforts to reduce greenhouse gas emissions.


2008 Climate Protection Award Winners:

Advanced Micro Devices, Sunnydale, Calif.
Austin Energy, Austin, Texas
City of Albuquerque, N.M.
Climate Protection Team of Mr. Durwood Zaelke & Mr. Scott Stone, Washington, DC
Ms. Gay Browne, Montecito, Calif..
Mr. John Morrill, Arlington, Va.
Mr. Kenneth Davis, Warren Air Force Base, Wyo.
Ms. Laura Miller, Dallas
Ms. Laurie David, Pacific Palisades, Calif.
Life Cycle Analysis Team of Dr. Stella Papasavva & William R. Hill, Warren, Mich.
Mr. Marco Gonzalez, Kenya and Costa Rica
MEGTEC Systems, De Pere, Wis.
Ms. Romina Picolotti, Buenos Aries, Argentina
Dr. Rajendra K. Pachauri, New Delhi, India
Xerox Corporation, Norwalk, Conn.


2008 Ozone Layer Protection Award Winners:

Dr. Husamuddin Ahmadzai, Sweden
Asada Corporation, Japan
Dr. Paul Atkins, Research Triangle Park, N.C.
Kingdom of Bahrain National Ozone Unit, Bahrain
Australian Fumigation Accreditation Scheme, Australian Quarantine and Inspection Service, Australia
Chinese Negotiating Team for the 19th Meeting of the Parties, China
Civil Aviation Halon Transition Team, Worldwide
Climate Co-Benefits of the Montreal Protocol Science Team, Netherlands & United States
Dr. Corrado Clini, Italy
Mr. James Curlin, France
Dr. Arumugam Duraisamy, India
Dr. David Fahey, Boulder, Colo.
Fiji National Ozone Unit, Fiji
Mr. Maas Goote, Netherlands
HCFC Phaseout Acceleration Team, Washington, DC
Mr. Mazen Hussein, Lebanon
Ms. Ana Maria Kleymeyer, Argentina
Dr. Michael Kurylo, Washington, DC
Kuwait National Ozone Committee, Kuwait
Dr. Kazufumi Nishi, Japan
Nordiko Quarantine Systems, Australia
Mr. Sateeaved Seebaluck, Mauritius
Dr. W.L. Sumathipala, Sri Lanka
World Customs Organization, Asia Pacific Capacity Building, Thailand


2008 Stratospheric Ozone Protection Awards